E-cigarettes, E-liquids, E-cig Kits, London UK.
Our Products
Click the filters below to discover some great products we have available to you. Come in store and try before you buy!
E cigarettes, E liquids, UK, Worldwide Delivery
The UK's finest selection of Electronic Cigarettes, E Cig liquids and vaping accessories!
The E Cigarette is now enjoyed by more than 2 million people in the UK as a healthy alternative to smoking and through our online and high street shops we offer all of our lovely customers:
A broad selection of the best e cigarettes and mods, e cig liquids and accessories, ranging from the subtly discreet to the seriously stylish.
A chance to save hundreds of pounds a month when you substitute vaping for smoking – 4 harmless ingredients instead of 4,000 toxins.
100+ E Cig flavours, 4 nicotine strengths and nicotine-free options.
All the advice you could need from our experienced and dedicated team.
And an opportunity to "try before you buy" when you pop into our high street shop.
STOP SMOKING! START SAVING!
Join the growing vaping community by popping into our shop for a chat, buying from our online store, or getting involved in our social network by following us on Twitter or liking our Facebook page to keep up with the latest in vaping news and view. We are also on Instagram where you will see up to date images of our electronic cigarettes, e cig starter kits, e cig liquids, mods, chargers, cases & a variety of other accessories which will enhance your vaping experience!
Barnet
102 East Barnet Road New Barnet London EN4 8RE. MAP
Tel: 02084419427
Opening Hours:
| | |
| --- | --- |
| Days: | Times |
| Monday: | 10:00 am - 6:00 pm |
| Tuesday - Wednesday: | 10:00 am - 5:30 pm |
| Thursday: | 10:00 am - 6:30 pm |
| Friday: | 10:00 am - 5:30 pm |
| Saturday: | 10:00 am - 6:00 pm |
| Sunday: | 11:00 am - 5:00 pm |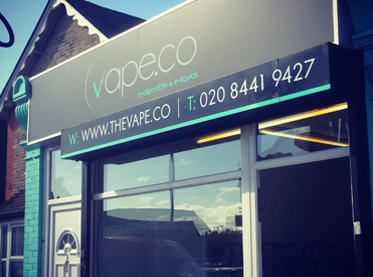 Holloway
213 Holloway Road London N7 8DL MAP
Tel: 02077002825
Opening Hours:
| | |
| --- | --- |
| Days: | Times |
| Monday: | 10:00 am - 6:00 pm |
| Tuesday: | 10:00 am - 5:30 pm |
| Wednesday: | 10:00 am - 6:00 pm |
| Thursday: | 10:00 am - 6:00 pm |
| Friday: | 10:00 am - 6:00 pm |
| Saturday: | 10:00 am - 7:00 pm |
| Sunday: | 11:00 am - 4:00 pm |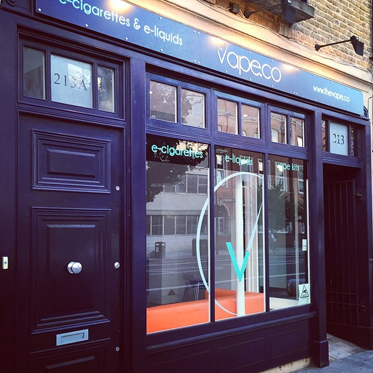 Camden Town
54 Parkway Camden Town NW1 7AH MAP
Tel: 02071012190
Opening Hours:
| | |
| --- | --- |
| Days: | Times |
| Monday: | 09:30 am - 7:00 pm |
| Tuesday - Wednesday: | 09:30 am - 7:00 pm |
| Thursday: | 10:00 am - 8:00 pm |
| Friday: | 10:00 am - 8:00 pm |
| Saturday: | 10:00 am - 8:00 pm |
| Sunday: | 11:00 am - 7:00 pm |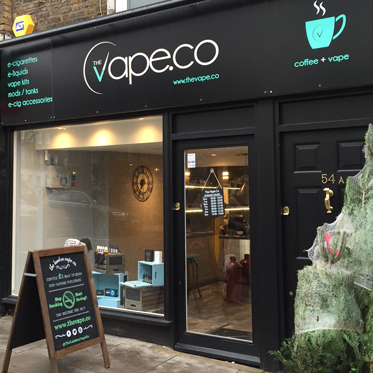 Enfield Town
9 Silver Street Enfield Town EN1 3EF MAP
Tel: 02033702111
Opening Hours:
| | |
| --- | --- |
| Days: | Times |
| Monday: | 09:30 am - 5:30 pm |
| Tuesday - Wednesday: | 09:30 am - 6:00 pm |
| Thursday: | 09:30 am - 6:00 pm |
| Friday: | 09:30 am - 6:30 pm |
| Saturday: | 09:30 am - 6:30 pm |
| Sunday: | 11:00 am - 4:00 pm |