Delivery Charges & Customer Collection
Customer Collection
You can now collect your order for free from one of our stores, visit our store locator page found here and see which store is closest to you to collect. Once your order is places we will notify you when you can collect.
Delivery
Our warehouse endeavours to dispatch all orders on a daily basis when possible. For all orders where Royal Mail Next Day delivery is selected, the cut off time for processing orders is 2.30pm. Any orders placed after 2.30pm will be dispatched the next working day. Our warehouse operates Monday to Friday. We do not process orders on the weekends. Any orders placed on Friday after 2.30pm will be dispatched the following week.
| | | |
| --- | --- | --- |
| Destination | Price | Time |
| UK (Mainland): | FREE over £35.00 | 2-3 working days (second class) |
| UK: | From £1.68 to £13.85 | 1-3 working days |
| Europe: | From £4.44 to £30.00 | 5-10 working days |
| USA: | From £5.70 to £22.00 | 5-14 working days |
| Rest of World: | From £4.70 to £35.00 | 7-14 working days |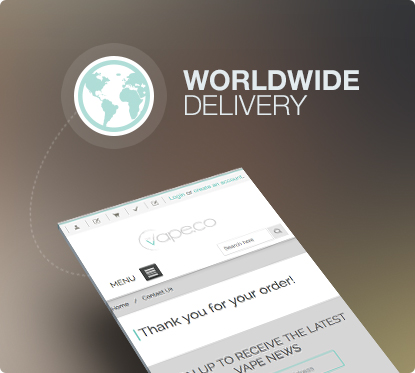 The above delivery times are estimates only. We cannot accept a claim for loss unless at least:
- 15 working days for items posted in the UK
- 10 working days for items posted by Special Delivery
- 20 working days for items posted to Europe, or
- 25 working days for items to the rest of the world
have passed since the item was due to be delivered. These procedures are imposed by Royal Mail and must be followed in order to make a claim for loss from Royal Mail.
Please note: Royal Mail 1st Class Service is not a guaranteed service. If you require your item urgently or to be delivered by a specific date then we suggest you use Special Delivery, a next day service, for all orders in the UK.
EU COUNTRIES
Due to New EU leglislation we are now unable to offer shipping to some EU countries as they have not signed up to the cross-border trade of E-Cigarettes. Please see below for more information.
The following countries have either signed upto cross border sales or have not specified their rules further and we will continue to be able to ship to them:
Czech Republic
Denmark
France
Germany
Ireland
Malta
Netherlands
Norway
Sweden
Croatia
Slovenia
Iceland
Turkey
United Kingdom
The following list of countries have unfortunatley stopped any cross border sales of e-cigarettes and we will unfortunatley have to stop shipping to them:
Austria
Belgium
Bulgaria
Estonia
Finland
Greece
Hungary
Italy
Latvia
Lithuania
Luxembourg
Poland
Portugal
Romania
Slovakia
Spain
Should you have any questions about delivery please call 02084419427.